Australian journalist Jill Baker, author of A Dog Called Harry, and Harry the pup. Photo: Julian Kingma.

Here's my review of former newspaper editor Jill Baker's book on serving grief and cancer with the help of one very special furry friend. This story was first published in Domain on 3 March 2020.
It's not an unusual scene: ring doorbell, set off furious barking from within, followed by enthusiastic threshold snuffling. Except that the pooch I'm about to meet happens to be a freshly minted celebrity and central character in former newspaper editor Jill Baker's debut book, A Dog Called Harry.
Pleasantries are exchanged (a handshake from the impeccably dressed Baker, a hand-sniff from Harry the honey-coloured, seven-year-old cavoodle) and we make our way into the couple's sunny inner-Melbourne lounge room. Harry joins us on the couch, and promptly falls asleep. Clearly, this celebrity couldn't care less about the media.
Baker, on the other hand, cares a lot. She has had a long and distinguished career in journalism, including as editor of The Sunday Age, the Sunday Herald Sun and a group publisher of magazines such as The Bulletin, Australian Gourmet Traveller and Belle.
In 2010, she wrote an 8000-word feature that earned her a hat-trick: a Walkley, a Sir Keith Murdoch award and the Melbourne Press Club's Gold Quill. The story recounted the harrowing period in her life when her beloved husband of more than 20 years, George, died suddenly on their Victorian farm.
A few weeks later she was diagnosed with breast cancer and found herself catapulted, grief-stricken, into a confronting world of hospitals, surgery, chemotherapy and radiation therapy.
A Dog Called Harry picks up where the story left off. It was her GP who first suggested she consider getting a dog, as a way of healing.
"The sound of an empty house can actually be quite deafening when you're used to having someone around," Baker says.
"And the thing about a dog is that they just love you. Harry just thinks I'm the best mum ever."
Knowing nothing about dogs, Baker's life was turned upside down (in a good way) when she took Harry home as an eight-week-old pup.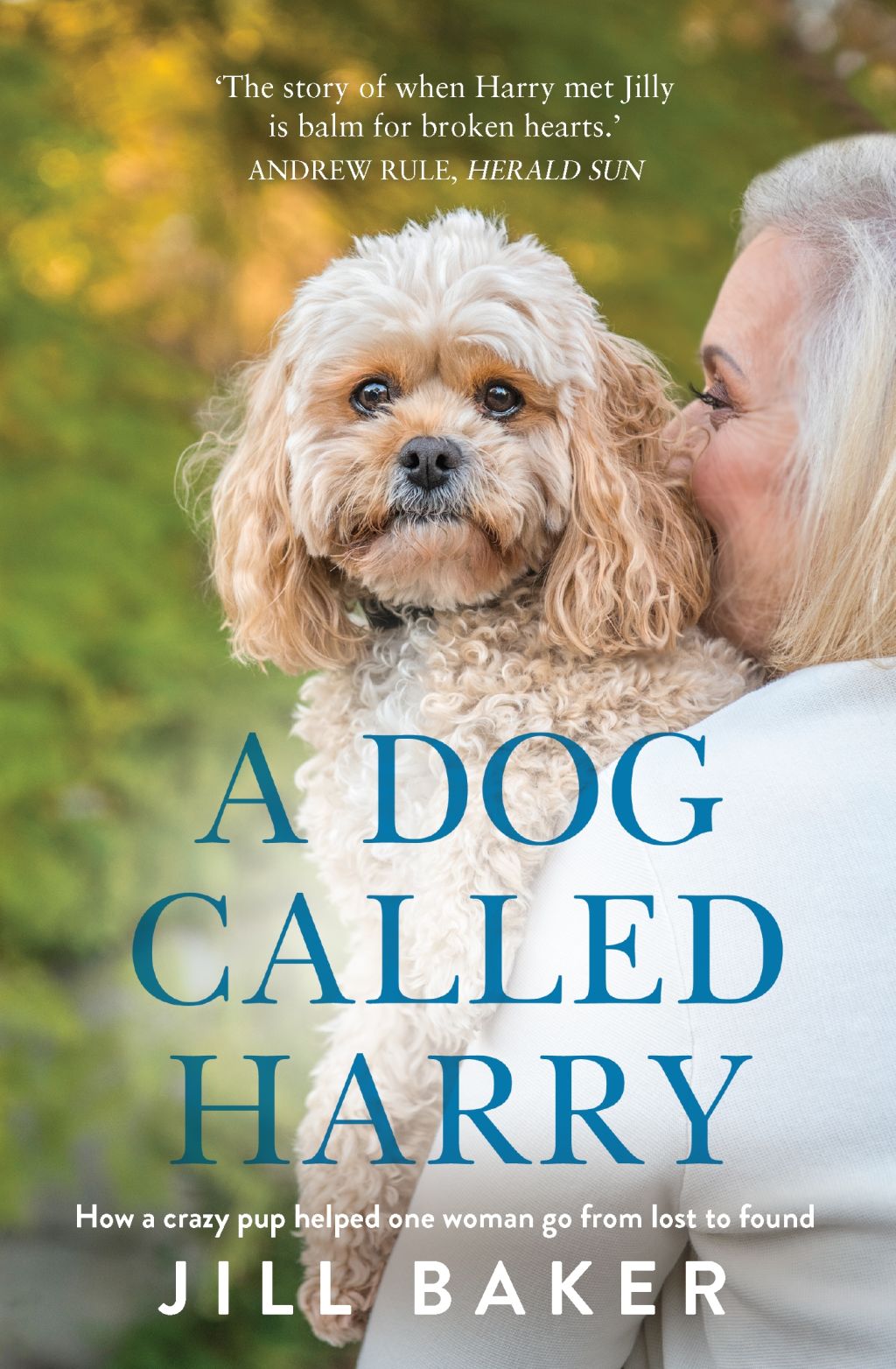 Her memoir, written over a year and in spite of Harry (think snoring, barking, whining, couch-chewing, and so on), celebrates how precious friendships like these help during illness and grief. Thanks to Harry, Baker learnt to smile and laugh again. She rediscovered life.
However, her story is by no means unusual, she says. "So many people have cancer, so many people lose someone special. The only thing that's different about my story is that I've got some idea of how to get it on the page."
During chemotherapy sessions she met many "amazing" people looking forward to holidays in Spain, upcoming weddings or new grandchildren. "One lady wanted to finish chemo so she could finish planting a rose garden and be around to see them bloom the following year. They are incredible people."
Harry's antics are woven throughout the book but what really shines through is that although grieving, fear and sadness may be part of the human condition, people experience them in unique ways.
"When I sat down to write about Harry, I realised how our stories were so intertwined and that it wasn't a story about anyone who was brave or strong, or did everything in a forward and orderly direction. It was really just a story about someone who a couple of bad things happen and then somehow, in a pretty higgledy-piggledy way, she sort of manages to fight her way through."
The book may appeal to people who have had similar experiences, dog-lovers and even cat-lovers (a smug feline called Nigel makes a cameo and deftly upholds all the appropriate stereotypes).
But what does Baker think readers will take away? "I hope they'll fall in love with that little guy [gesturing to snoring Harry on couch]. But I also hope that they'll see that you don't have to be strong, brave or smart, or any of those things. That if you just take one little step at a time you can somehow meander your way through. And at the end, it's all about finding something that makes us happy."